Conditional Access System Market Analysis, Strategic Assessment, Trend Outlook and Business Opportunities
February 1, 2020
According to a new market report published by Transparency Market Research, the global conditional access system market was valued at US$ 2,694.9 Mn in 2016 and is expected to expand at a CAGR of 6.9% from 2018 to 2026 to reach US$ 5,381.2 Mn by the end of the forecast period. According to the report, North America was a significant contributor, in terms of revenue, to the conditional access systems market in 2016. With high adoption of advanced services such as high definition (HD) television, internet protocol television (IPTV), and others, North America is expected to maintain its dominant position in the market throughout the forecast period.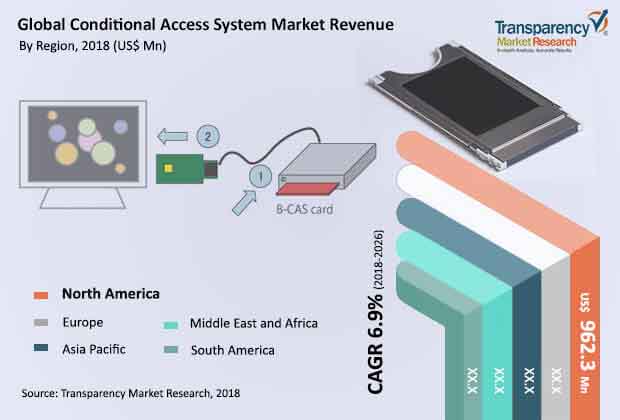 For More Details, Request A Sample Report @ https://www.transparencymarketresearch.com/sample/sample.php?flag=S&rep_id=1438
Increase in Penetration of Digital Television Worldwide is driving the Global Conditional Access System Market:
Increase in penetration of digital television worldwide is a major factor expected to fuel the expansion of the conditional access system market across the globe. The conditional access systems market is primarily dominated by pay television (TV) subscribers, who account for more than 70% of the total market revenue. Conditional access systems are used to provide content security for digital television service providers and are located within receivers at consumers' end. This makes digital television a prominent factor responsible for the expansion of the conditional access systems market. Thus, the demand for conditional access solutions is expected to rise substantially with an increase in penetration of digital television worldwide. Furthermore, the transition from analog to digital television services is a significant factor boosting the penetration of digital television globally. With a transition to digital television across the globe, the demand for interoperable set-top boxes (iSTB) is expected to increase substantially in the coming years, thereby fueling the conditional access systems market.
This post was originally published on Analytics News